Medieval Peel
The history: we are both big fans of the Middle Ages. Our Lego-spleen began with some castle sets. The idea for the peel came us right after a documentation on peels, their types, design and interior. We were enthusiastic about the film, especially about one of the shown towers with more levels like usual peels. The entrence was obtainable only through a rope-ladder. The lower levels were storage floors. The upper levels had all kind of rooms a castle provides. A kitchen that was also the heating for the upper rooms. A hall with a large table that was also used for admistrative work. A bedroom for the nobility and above the stable. The position of the stable may appear weird and we were surprised. If you think about it there is a reasoned cause: the stable was a good thermal insulation and the smell warped upwards. Poor guards who had to bear the coldness and the smell *g*. The cattle was carried up or pulled up by a tackle. People only lived in these medieval towers when danger was afoot. Many of them were origin of large castles. Our tower is based on the biggest tower that was shown in the film (what else *g*). Many other peels had only 2-3 levels (from the entrence upwards). These ones were mostly used for observation and defense. Our tower was standing free and had the functions of a stronghold. It provided shelter even from larger attacs and especially from sieges.
Details: 70cm high, built on a 48x48 studs baseplate
Start of construction and building time: October 2006, the tower was built within 48 hours, some details (like minifigs, animals, etc.) were finished later
built by: the peel was a cooperation. The complete exterior wall and the floors were built by us both. Single works: torture rack, toilets, tackle and cow by Tom; roof, bathing corner, cradle and cupboard by Verena.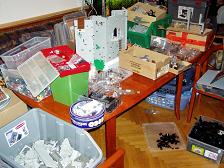 our chaos ;-)
exterior view: the first model still had a roof but we left it. Looks better without.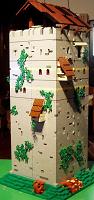 general view - open tower: without interior the model would be rather boring.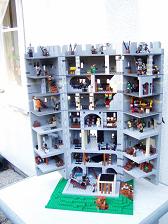 details: